Delusions are false beliefs held to be true. They are problematic because they project a reality that doesn't exist. They become dangerous when people act as if delusions were true or they simply don't realize that delusions are indeed false. Young people are especially vulnerable to such circumstances and can fall prey to them.
For example, take fight scenes in the movies. They're obviously not real but they can have a negative impact on people who can't discern the difference between fantasy and reality.
Bruce Lee was, arguably, the most dominant force in bringing martial arts to the forefront of society. His movies were and are fun to watch but many of his fight scenes are not emblematic of reality. His movie character often finds him assaulted by, say, twenty bad guys who attack him and, of course, Lee dispatches them all. Ah! Such a champion! What power! What dominance! The problem is that Lee does not fight all twenty bad guys at once. He takes on one bad guy at a time, generally. Thus, it's delusional to say he defeated twenty bad guys at once when, in reality, it was only one bad guy at a time. No one, not even Bruce Lee on his best day, is good enough to handle multiple bad guys when they all attack simultaneously, working as a whole rather than separate attackers. And as a simple reminder for those who think movie fight scenes are real—they're all carefully choreographed. They represent fantasy, not reality.
Nunchucks are often prominent in many Bruce Lee movies. He whips those two sticks around with awesome speed and devastating precision. The delusion, however, is that Lee's speed with nunchucks is often a result of the movie tape being edited to create the illusion of speed, speed which does not really exist. Weapon experts clearly understand this but the general public doesn't. They think it's all real. No. It's only a delusion.
Another nunchuck delusion is that the movies never depict how dangerous nunchucks are and how they can split a face open in one smooth slash and never even waiver in their motion. Just ask Kiado-Ryu 2nd Dan Black Belt Jerry "Bones" Gentry (RIP). While he was practicing with his nunchucks at the Karate Institute of America, a strike to the ulnar nerve on his right funny bone (the humerus) at the elbow dropped him instantly to the ground in excruciating pain. It took him a year—a full year—to recover from that injury which was the result of one, just one, nunchuck strike. When he had healed, he picked up the chucks again—one time—and then put them away forever.
A similar event happened to KIA Black Belt Eric "E.V." Vind (also RIP). While practicing at the dojo with double chucks, he split his forehead right down the middle with one nunchuck slash, a seemingly innocent slash which never waivered in its circular motion! The speed generated at the tip end of the chuck just grazed his forehead and created a gash as well as a bloody mess.
Yet, in his movies when Bruce Lee slashes his nunchucks around, hitting his opponents in the head and face, there is hardly a scratch on the bad guys. Talk about delusions! We can also talk about how dangerous nunchucks are and also how children can be critically hurt because they don't understand the potential injuries nunchucks are capable of generating. The movies make nunchucks look harmless. Hardly. Nunchucks are a beautiful weapon but they are a weapon designed to inflict great bodily harm to an adversary. Nunchucks are not toys. They are dangerous self-defense tools.
The Jason Bourne movies are fun to watch but their fight scenes are ridiculously funny and totally delusional. The truth is that one well-executed punch to a face can open that face up like a can of soup, bloody soup. Still, many of the fights in the Bourne movies go on seemingly forever before they come to a halt. Next time you watch a Jason Bourne movie, pay attention to all the punches and elbow strikes to the face of both fighters. Such faces never show the excessive damage that can be done in a real fight. You may see a bruise or two and a mild scratch but that's it. In reality, one punch can do great and observable damage to one's face. At the Karate Institute of America, fighters have had their faces cut open by one, just one, punch which was delivered by a fist housed within a standard foam glove made for sparring—not a bare fist but a foam glove-covered fist! Too, the KIA has had its share of one-strike knockouts, just one strike, not a multiplicity of strikes, was able to knock someone out. These were all accidents but dangerous none the less.
One of the most delusional movie scenes is from the original "The Karate Kid" movie, which was great advertisement for the karate industry at the time but laughable from beginning to end. We all know the story, "Wax on, wax off," with Daniel getting his Black Belt in a just a few months and then winning a karate tournament using that poetic but unrealistic, even ridiculous, one leg crane pose to defeat his adversary while jumping and then landing on a damaged foot! This is not even to mention Mr. Miyagi stealing—yes, stealing—an individual's black belt lying on an unattended karate bag! That's a sure fire way to teach children how to be ethical and honest (tongue in cheek). For devoted, sincere and genuine martial artists, "The Karate Kid" was, and still is, a gigantic delusion of reality, a delusion which actually had a massive negative impact on the public because it gave a false image of how easy it is to get a black belt.
The reality is that it takes years for an individual to achieve a Black Belt ranking in any legitimate martial arts school. The average time for an individual to earn a 1st Dan Black Belt rating at the Karate Institute of America is six years—six years of constant, deliberate, dedicated work and study. There are no delusions about the concerted effort involved in achieving a KIA Black Belt ranking. It is a rare accomplishment by any standards. Only 2% of students who enter the KIA system rise to the esteemed level of Black Belt. These individuals are thus enshrined and immortalized on the Black Belt Wall.
Knowing this reality, perhaps it would be befitting for the KIA to hang a sign above the front door stating, "No Delusions Here!" In other words, the KIA does not deal in mediocrity and deceptive giveaways. Just ask any Kiado-Ryu Black Belt if their road to excellence and martial arts accomplishment was easy. To the man and woman they would laugh you out of the room. How sweet it would be if the entire martial arts world held the same beliefs and exhibited the same standards, not just of martial arts skill but ethical behavior as well. Some do; many don't. They're like the movies. They sell delusion, not reality.
The following poem is dedicated to all Kiado-Ryu Black Belts.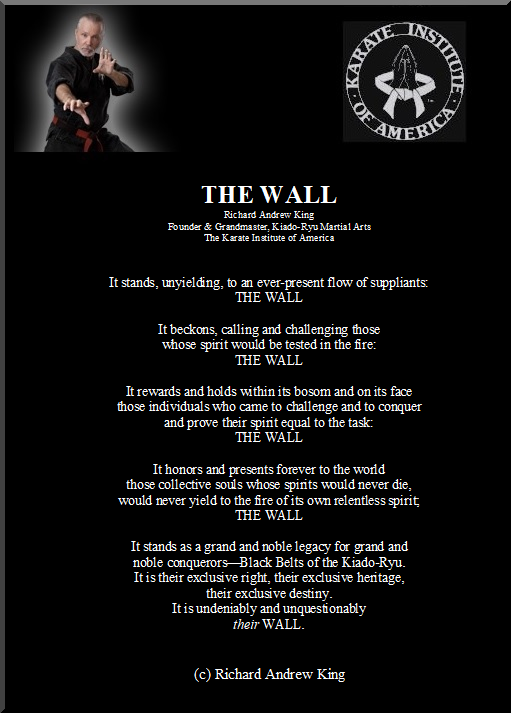 ~finis
© Richard Andrew King and Kiado-Ryu Martial Arts