In any field of endeavor there are always levels of expertise from beginner, to intermediate, to advanced, to expert and beyond. Captain Lou Gacs, USMC retired, has surpassed that level of what is "beyond" to a level of martial arts excellence that is simply extraordinary. Without a doubt, Captain Lou Gacs is a "Martial Artist Extraordinaire."
It is one thing for an individual to attain a Black Belt rating in one style of martial arts. The dedication to such an accomplishment is amazing, especially in today's culture where "wanting everything yesterday" is an all-too-common mantra, and where patience, hard work and commitment have been kicked to the curb and relegated to the age of the dinosaurs, sadly.
How refreshing it is to see, and be around, individuals who are motivated by true achievement and who embrace the qualities of character, hard work, determination, devotion and excellence. It's a rare and awesome combination.
Enter Captain Lou Gacs. He has been studying different styles of martial arts his whole life. His desire to learn multiple styles of martial arts and perfect those styles is wonderful and inspirational. He would never boast of his accomplishments, but Captain Lou Gacs has Black Belt rankings in not one but five different systems of martial arts! Talk about desire and dedication! Plus, his lovely and devoted wife, Linda, is also a Black Belt. This is one couple you definitely never want to mess with!
Captain Lou's background is also extraordinary. He worked his way up in the Marine Corps starting at the bottom—from NCO (non-commissioned officer) to Captain in the officer class. During his time serving our country, he spent multiple combat tours in Vietnam. His duties varied from electronics to telephone operator to helicopter gunner. In the years of his service he also earned a Master's Degree in business, which has been a great help in his development of a high-level martial arts system of his own. As if these accomplishments were not enough, Captain Lou also sponsored public martial arts tournaments at Marine Corps Air Station El Toro, at which the Karate Institute of America was in attendance. When does the man rest? Frankly, he never rests. He is now retired but that hasn't slowed him down. He's always on the "go" doing or developing something.
The most remarkable thing about Captain Lou is his modesty and humility. He never talks about his accomplishments or brags about anything. The Karate Institute of America has been extremely fortunate and honored to be his friend since 1984. Following are a few requested photos of his martial arts journey. Enjoy.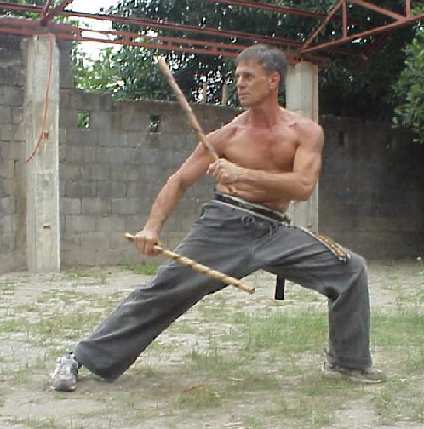 Right out of "Central Casting." Practicing Filipino stick-fighting, i.e., escrima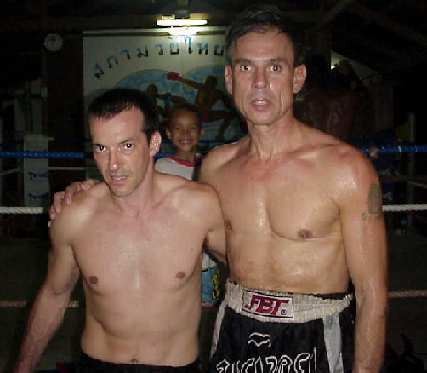 In the ring with one of his fellow fighters.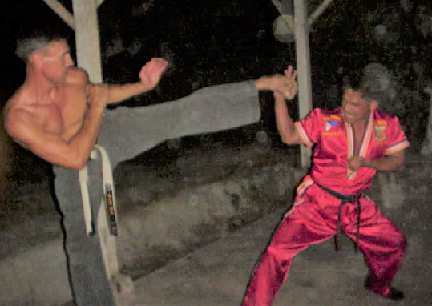 Nice knife-edge kick, Captain Lou!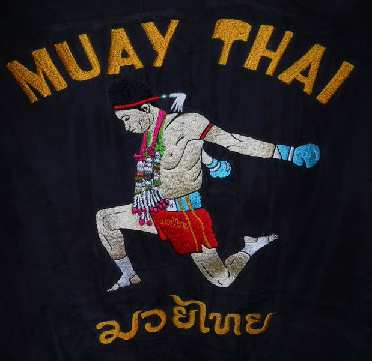 Beautiful Muay Thai embroidery on the back of one of his jackets. Very cool!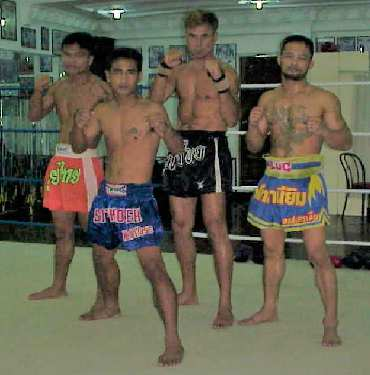 Captain Lou with some of his Muay Thai buddies.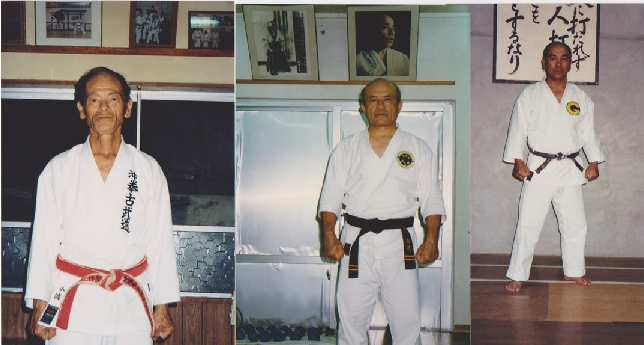 Three of his martial arts teachers from different systems.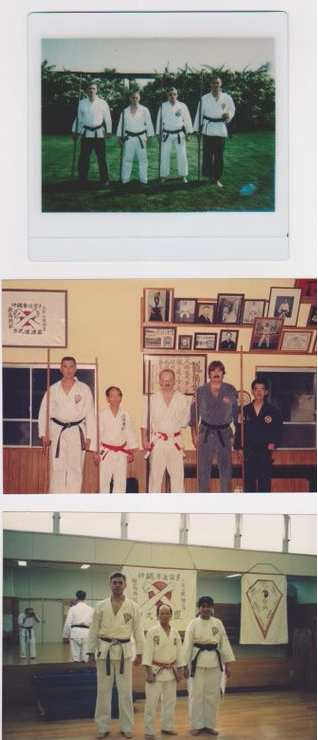 An ensemble of memorable photos. Captain Lou is the tallest one in each shot. His devoted wife, Linda, is on the right in the bottom pic.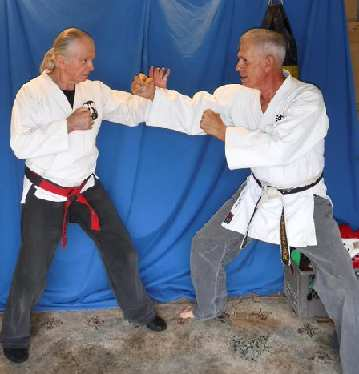 Two longtime dear friends . . . and thankful to be so.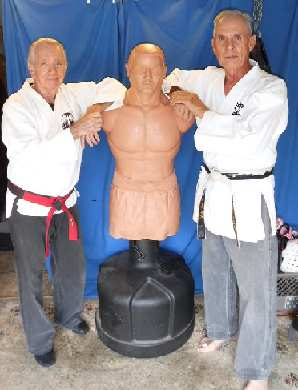 Semper Fi, Captain Lou! No doubt!
© 2022 by Richard Andrew King, Captain Lou Gacs and the Karate Institute of America.