During this global pandemic of COVID 19 (Coronavirus) with its attendant turmoil and concern, it is vital for all humanity—individuality and collectively—to remain "balanced" and not allow the virus, or any other calamitous situation for that matter, to dictate our disposition. When we lose our balance, we put ourselves in a perilous situation. Uncomfortable? Of course, but Imperative to manage and control. This is why "Balance is Primary" is a fundamental life principle, not simply a martial arts precept.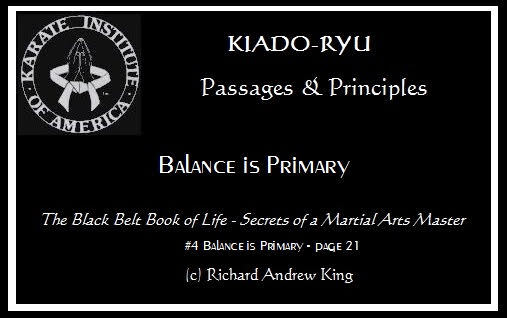 Following is one of the forty principles taught at the Karate Institute of America. It is presented here in full. It is also available as a free download. The article is a short read but an important one in helping us weather the COVID 19 storm, a storm that will pass in time. In the meantime, remember…"Balance is Primary!"
Kind regards, stay vigilant, and be extremely mindful of common sense practices of cleanliness.
Richard Andrew King
Grandmaster — The Karate Institute of America & Kiado-Ryu Martial Arts.
Kiado-Ryu.com and KingsKarate.net