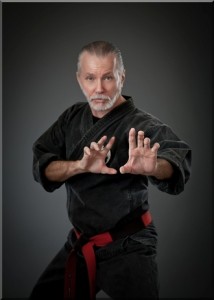 Richard Andrew King began his martial art studies in the Spring of 1968 with the Tracy Brothers' Kenpo Karate organization in northern California, training with them for five years. Upon being transferred to southern California, he transferred to the Ed Parker Kenpo Karate system and received his first degree black belt from Bob Perry, a first generation Parker black belt. Thus, King is a second generation Ed Parker black belt. In addition to being Grandmaster of his own system, he also holds a fifth degree Kenpo Black Belt rating.
Richard King's competitive career includes fifty-three championships at the Black Belt level in open competition, six All-Around Grand Championships (weapons, forms, fighting), a national number one regional ranking in 1989 and 1993. His students have garnered four United States National Championships on the NASKA circuit, as well as amassing over three hundred first place victories in the Karate Institute's career.
In 1979, King founded the Karate Institute of America and developed the Kiado-Ryu system of martial arts.