COVID-19 is a virus, but it's also an enemy, an invisible and lethal enemy. As the whole world knows, COVID-19 is humanity's #1 enemy at this moment in human history. Truly, we are at war.
COVID-19 struck quickly and powerfully in a blitzkrieg that has, like 911, changed the world. It will be defeated but not until it has done more damage. In its aftermath, we would be wise to reassess why so many countries around the world, if not every country, was caught off-guard.
In doing such an assessment we would also be wise to remember Sun Tzu's first principle of war: In war, the first thing you must do is secure yourself against defeat.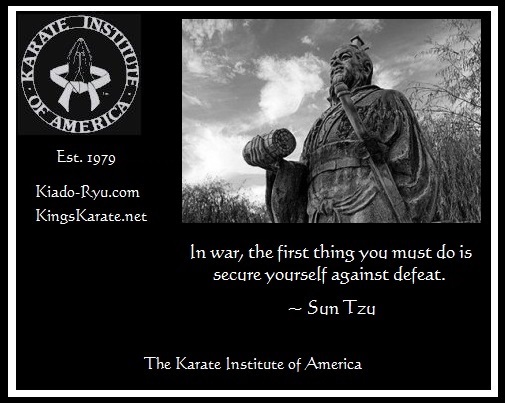 As a world, we were very late to the party – the war party. Over 151 countries are still being hammered by this invisible and deadly enemy. There is no doubt that the best minds on earth in all fields of endeavor will create and execute tactics and strategies to defeat this opponent and emerge triumphant.
But what about next time and the time after? Individually and collectively we must be better prepared, never forgetting Sun Tzu's command that In war, the first thing you must do is secure yourself against defeat.
How do we do this – secure ourselves against defeat? Here are a few ideas.
BE MENTALLY PREPARED. We must live in a mature mindset of constant awareness and perpetual readiness, knowing that anything can happen at any time. This does not mean freaking out or living in a state of anxiety. It means that we must be constantly alert and mindful that we don't live in La-La Land, and that at any moment we could be assaulted by something or someone and that we must have contingency plans for such events. Being constantly alert and aware is the most basic premise of self-defense. Every martial artist should understand this. Every person in the world should understand this and live by its edicts.

BE MATERIALLY PREPARED. What materials and supplies should we have on hand in our own home to manage a crisis effectively? Water, non-perishable foods, medicines and medical supplies should be first. Candles, flashlights, batteries, matches, cash, radio, some type of communication device, etc. should definitely be accessible. Every person knows his/her own needs so their supply list will be specific to them. What happens if an EMP (Electromagnetic Pulse) or nuclear explosion occurs? There will be no electricity. Phones, cars, computers, televisions, etc. will not work. What then? We'll be riding bikes or horses, walking or using roller skates, skate boards or wheel chairs to get around.

BE EMOTIONALLY PREPARED. Emotions are like water. They can be still or raging. An angry ocean can sink the biggest of ships. Calm waters will not. In a crisis situation it is imperative to be calm, balanced and centered, especially for parents and leaders. In the fog of war it is common for emotions to get out of control. We must fight this tendency.
In simple terms in order to secure ourselves against defeat we must be thoroughly prepared – Mentally, Materially, Emotionally. This principle should be a constant if we want to be victorious when beset with a crisis or conflict.
~finis
© 2020, Richard Andrew King