Barnyard critters climbing the Wall? What in the world is this all about? Well, it's about strength, courage, persistence, determination and a relentless "Never-Give-Up" attitude that pervades the Kiado-Ryu spirit.
The Wall? Ugh? Yes, the Wall—that vertical edifice that currently contains only 2% of the 3,300 students moving through the KIA's 41 year history who have reached the level of Black Belt. That percentage translates to only 64 students: 56 males and 8 females. It is, truly, an esteemed group of rare individuals.
Two critters of the Karate Institute of America—Hawk & Coyote—have renewed their efforts to climb farther up The Wall. Their intent is to accomplish more, achieve more, become better KIA martial artists, even though they have both passed the century mark of age. To see all the individuals who have climbed The Wall, go here: http://www.kiado-ryu.com/black-belts/
HAWK
Hawk is Chip Robinson—a KIA 3rd Degree Brown Belt whose destiny separated him from the Karate Institute of America decades ago. Hawk is President of "The Management Works, Inc." in Newport Beach, California. His life has now given him the opportunity to achieve what he always desired—to be on The Wall; to be a KIA Black Belt; to join a very elite group of human beings who share a common and praiseworthy bond. When Hawk achieves his goal, and he will achieve it, he will become the 65th Black Belt of the Karate Institute of America and the Kiado-Ryu System of Martial Arts and join a venerated ensemble of extremely rare martial artists.
During his time at the KIA, which began when he was 17 years old, Hawk became a vaunted tournament champion in both fighting and forms (kata). He was one of the best fighters the KIA ever turned out, as well as being one of the most versatile and athletic.
COYOTE
Steve Vertun, callsign "Coyote," is President of his thriving Segue Corporation business, a global multi-faceted, forward and reverse logistics supply-chain company located in Lake Forest, California. Like Hawk, Coyote is also a competitive champion, in fact he is a United States National Champion—one of only four KIA students who competed throughout the country to earn that special distinction. Coyote is also a versatile individual. Read about his latest achievement here: http://www.kiado-ryu.com/2020/10/26/coyote-in-concert/
Coyote is the 39th Black Belt of the Kiado-Ryu, having attained his 1st Dan rank on 9 December 1995—twenty-five years ago. Now Coyote is in the process of attaining his 2nd Dan Black Belt Rating and reaching yet another rung on the ladder of the KIA Wall.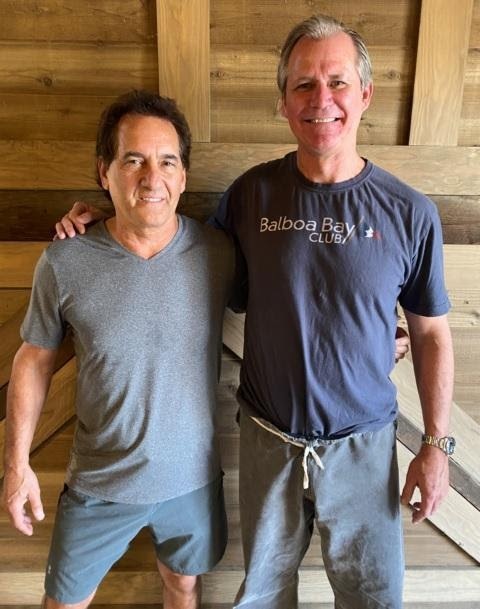 In the pic above Coyote is on the left and Hawk on the right. This photo was taken in early December, 2020. How impressive is it that both these accomplished men are continuing their ascent of the Wall at an age when most human beings are settling in to a less strenuous and demanding lifestyle? Answer: very impressive.
At this point you've probably already been wondering why this article is labeled as "Barnyard Critters." It's a fair and obvious question. The answer is the wooden wall behind them. It's not a normal wall. It's part of a 110 year old barn in Orange County, now serving as a karate studio for these two "Barnyard Critters – Coyote and Hawk in their mutual quest to achieve yet another milestone in their lives as well as in Kiado-Ryu Martial Arts.
AN IMPORTANT ITEM OF NOTE
Steven Vertun and Chip Robinson are two of the smartest and most aware individuals in KIA history. Each of them understands the depth of what the KIA legacy is and what being a member of The Wall actually means. That is, arguably, the main reason they keep achieving. Anybody can be a black belt given the enormous breadth of martial arts styles, curricula and business plans available in the world, but the ethos and curriculum of the Karate Institute of America is special, underscored with the KIA Way of Traditional Values, Innovative Ideas, Quality Without Compromise and Substance Before Symbol.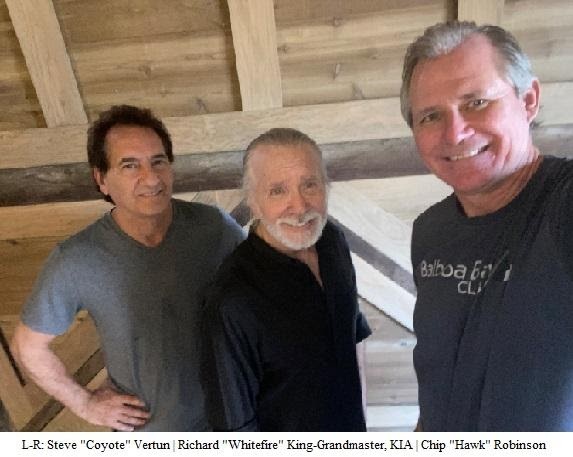 It is such an honor to have these men as a vibrant and vital aspect of Kiado-Ryu Martial Arts, its history and legacy. We look forward to their next ascending level—Coyote to his 2nd Dan Black Belt rating, and Hawk becoming the 65th Black Belt of the Karate Institute of America! It will be another great day for the KIA when these two stalwart men rise to conquer their goals. Carry on Critters!
~finis
© Richard Andrew King & Kiado-Ryu Martial Arts