Ah! 21! It is, arguably, the first great Milestone in any of our lives. One of the Karate Institute of America's own is adorable Hannah. She is lovely. She is tough. And now she is 21!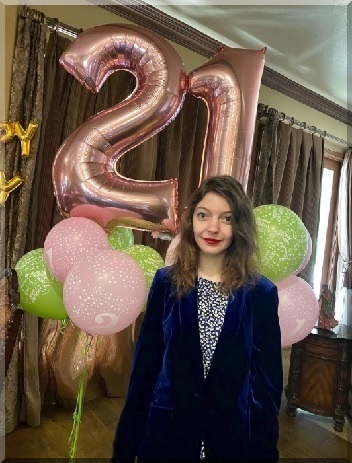 Hannah's birthday party was a smashing success. But how does one have a smashing success of a birthday party in this age of COVID? Simple. You have a Zoom birthday party, which is exactly what her parents and family organized for her. It was awesome and . . . creative. Everyone had a great time.
Hannah is a lovely young woman. Currently in college, she has already become an expert in sign language. She is quite artistic, versatile, independent and shy, sort of.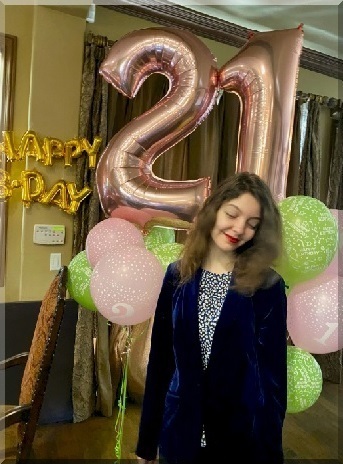 Why is Hannah "sort of" shy? Don't let that beautiful demure pose fool you. Simply stated, Hannah's roundhouse kick will take your head off! No kidding! The power in her foot is stunning, literally. Hannah is sweet; she is reserved; she is adorable, but when she fights she is a laser-focused warrior who has mastered the fine art of deception and trickery, which she uses relentlessly to shame her opponents into submission. Sun Tzu would be proud.
Just look at that picture again and that magnetic smile—so innocent, so reserved, so misleading. Don't get me wrong. It's a genuine smile but it would be a grave mistake for anyone to think this young woman is a push-over. Ha-ha-ha! Quite to the contrary.
Hannah is a courageous human being. Her life story is replete with examples of overcoming adversity, which is an inspiration to us all. Interestingly, she never talks about her adversities. She just kicks them in the head with that cannon blast of a roundhouse kick and continues on her way, unfazed.
Oh, by the way, Hannah's roundhouse kick is not all she has in her combat arsenal. Among her favorite tactics is a fake left punch to the head followed by a debilitating right body punch to the ribs or solar plexus. Ouch! Been there; done that; felt it more than once! It's real.
So now it's on to adulthood for Hannah. She's a first class young lady with great talents and an even greater heart. Her parents have done an amazing job raising her and whatever she does in life will be awesome!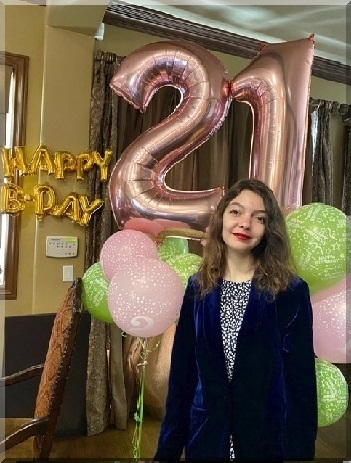 Truly, a confident and classy young woman!
From all of us at the KIA, we wish you all the best in life, Hannah. Keep being the lovely person you are. Humanity will certainly be blessed because of you! Happy 21st Birthday!
~finis
© Richard Andrew King & Kiado-Ryu Martial Arts