You remember "Big Mike," right? He was the focal point of the 2009 movie "The Blind Side" in which Quinton Aaron played the part of a homeless kid, Michael Ohr, who eventually became a professional football player in the National Football League (NFL). Sandra Bullock played the charitable mother (Leigh Anne Tuohy) who guided and supported "Big Mike" in his journey. For her performance, Bullock won the Academy Award for Best Actress.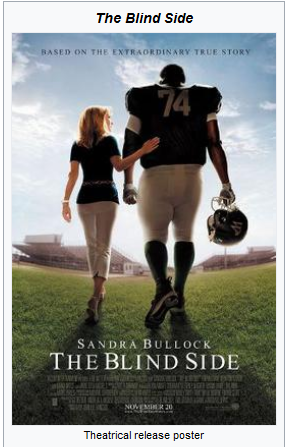 Well, it turns out there is another "Big Mike" in the world and he paid a visit to the Brothers Ligtvoet, who brought him along to their karate lesson. Our visiting "Big Mike" is a tad shorter, a tad lighter and a tad younger than "Big Mike" the professional actor. However, the visiting "Big Mike" is a lot cuter, as you can see in the following photos. Quite a startling contrast!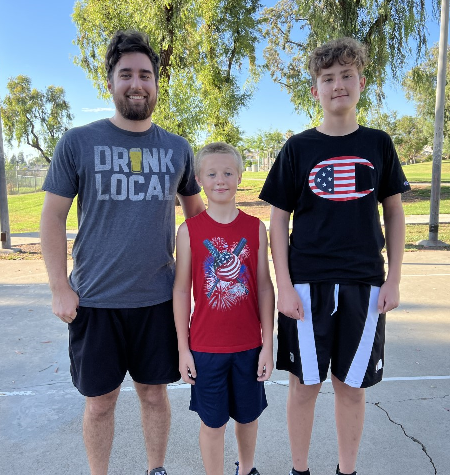 "Big Mike" is the short one! Quite the picture, eh? ☺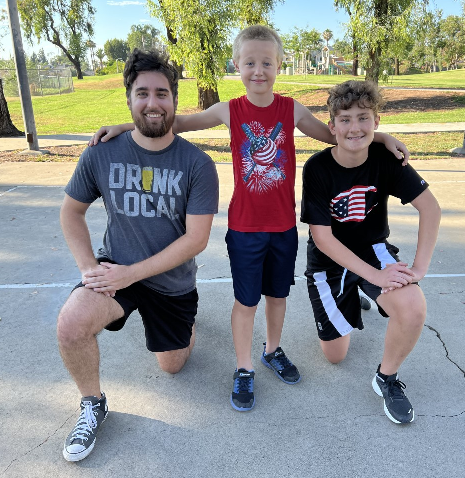 Ah! Now he's grown and we see who's really in charge!
Don't be fooled, though. Our friendly—and adorable—Big Mike is a stud, which is why his baseball buddies gave him that nickname. He's one tough kid. For example, each of the Brothers Ligtvoet engaged him in a game of "Noodle Wars" and Big Mike proved, without a doubt, why he has such a tough reputation. He gave as well as he got, and he hit hard . . . with a smile on his face, no less! The kid is fearless, relentless, aggressive, athletic and the farthest thing from a scaredy-cat that you'll ever find—perfect material for a KIA martial artist. Unfortunately, Big Mike was just visiting, but we hope to see him again sometime soon.
Here he is giving our resident mountain man (Tristan-Raptor) a swift kick. Ouch!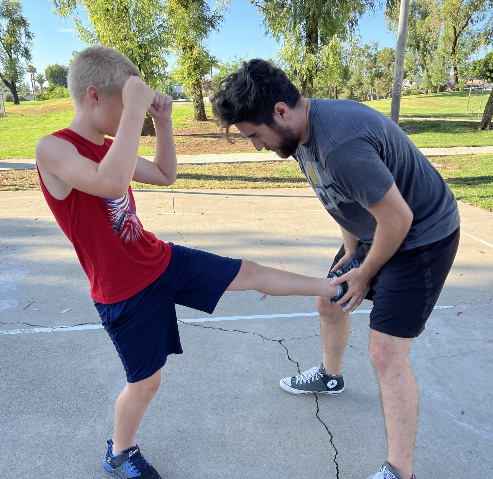 And, of course, he couldn't by-pass the younger Ligtvoet (Aidan-Smasher), assailing him with a roundhouse kick. Both kicks he learned on his visit. He's certainly a quick study.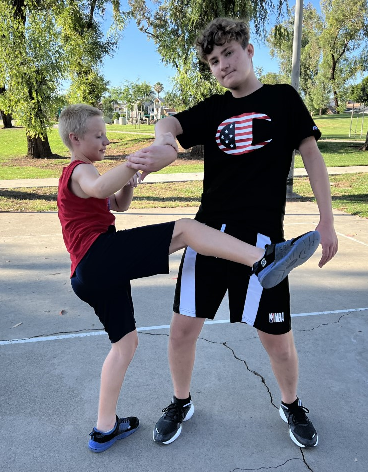 In the following photo Big Mike is paired up with a guy more his size.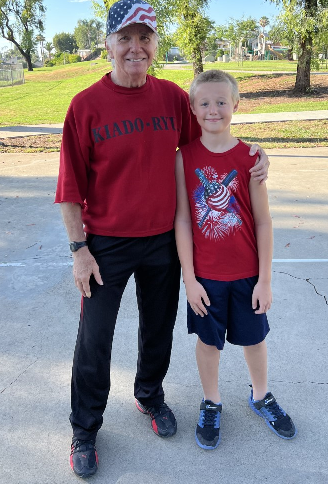 So, Big Mike, we all had a great time with you. You're a great kid and a remarkable athlete. We hope to see you again soon. Thanks for reminding us what a respectful and well-mannered a young person can be. You are an inspiration, to be sure!
~finis
© Richard Andrew King and Kiado-Ryu Martial Arts