Shaw "Wind" Shahriari is the newest member of the Kiado-Ryu family. Heralding from Tehran—the largest city and capital of Iran—Wind is an extraordinary individual. A business man in the automotive field, Shaw has extensive experience in other martial art styles and is now a solid student of the Karate Institute of America. In the following photo Wind is adorning a white belt as his KIA journey begins. Notice the smile.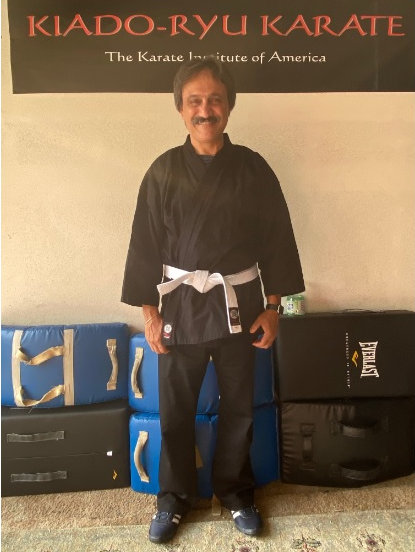 Shaw is a first-rate athlete. His favorite sport, at which he excels, is soccer. He's been playing it all his life. Because of his "football" experience, Wind has massive power in his kicks—arguably the best of any white belt in Kiado-Ryu history. That is really saying something.
Wind's kicks aren't just powerful, they're thunderous. Believe it. You never want to be on the receiving end of any of his kicks, especially his front snap, front thrust, roundhouse, knife-edge and crossover rear kick.
Standing around 5'8", why are Shaw's kicks so impressive? Speed and technique are the answer. Wind can launch a ball from the soccer midfield line into the goal with pace, power and accuracy. This is one guy you most definitely would want on your side in a street fight.
Shaw Shahriari is also philosophically and spiritually well-versed. Just consider his callsign, "Wind." His mind is always in the elevated atmosphere of what represents a higher-level human. Shaw is a thoughtful, kind and respectful man, always emitting a positive attitude. Truly, Wind is a joy to be around.
The following photo is of Wind after attaining his Kiado-Ryu Orange Belt on 22 September 2020. Notice that even after such an ordeal, he is still smiling! That's Wind—forever the manifestation of beneficence and grace.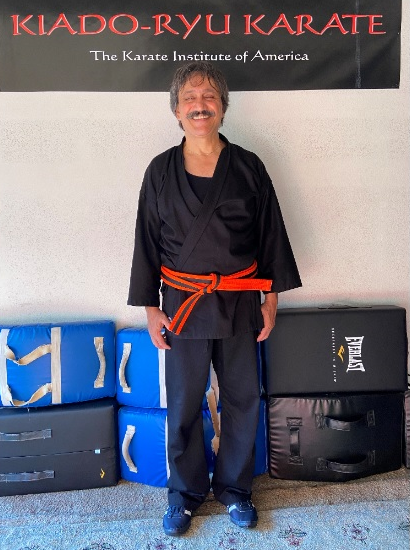 Congratulations, Wind! Thanks for being a member of our KIA Family. We look forward to great things from you! So . . . let your wind keep rising into the stratosphere of all that is good, great and ethereal!
~finis
© 2020 by Richard Andrew King & Kiado-Ryu Martial Arts