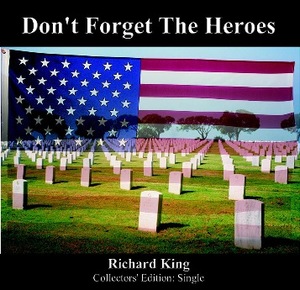 Copyright, Richard Andrew King
DON'T FORGET THE HEROES is a patriotic, passionate and moving tribute to those American men and women who serve and have served the "Flag of the Free." It also offers a special acknowledgment to all those souls who have suffered, died and cried as a result of the Vietnam War.
Download the Full Song for Free HERE.
ENDORSEMENTS
DON'T FORGET THE HEROES is a wonderful tribute to all of us who served in Vietnam, both the living and the dead, and the families at home who also paid a price for loving a service member.
This CD will mean a great deal to everyone who lost a loved one in Vietnam, and will serve as a poignant reminder to every American that we should never forget those who sacrifice their lives for our country.