All true warriors share a culture of common characteristics. They are determined, strong, courageous, focused, resilient and unyielding in their pursuit of victory.
Paige J., pictured here, is a true warrior on the track. On 4 May 2019, at the Kids Run the OC event held at the Orange County Fair Grounds, Paige ran a one mile race with hundreds of kids in her 9 year old age group and finished third with a time of 6 minutes, 42 seconds!
Talk about speed and determination at 9 years old! This T1D (Type 1 Diabetes) warrior has it all. She's never had professional training, as some of the kids in the race have had, but blasting out a 6:42 mile time with nothing but a raw desire to win and an indomitable spirit to go fast and never quit or complain is impressive, to be sure. CONGRATULATIONS, PAIGE! There's obviously more success to come in your young life.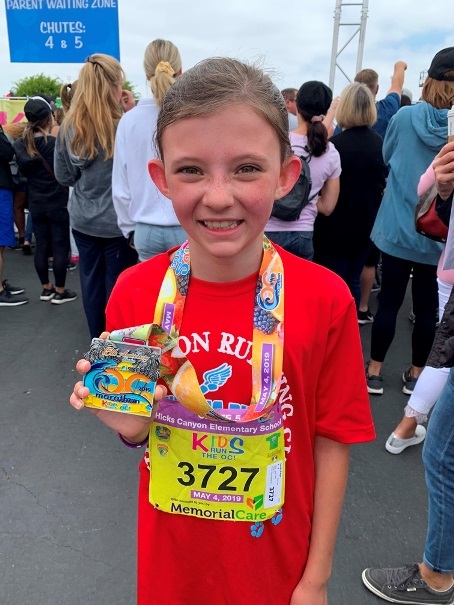 The Kids Run the OC is an exceptional event drawing thousands of kids from hundreds of elementary schools in Orange County. Just look at the 9 year old division below, one of multiple age divisions. When the starting gun fired, it was a stampede to the finish line a mile away!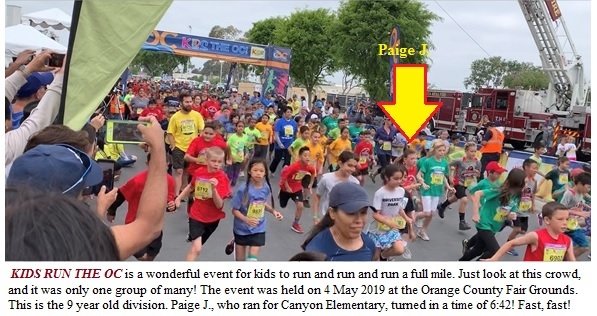 Pictured with Paige are her little sis, Emery; mom Christa; dad Mike, and Papa Richard—all so very proud of Paige's accomplishment, which was more a triumph of her indomitable Spirit than a victory of physicality. Way to go, Paige! We're behind you all the way, literally!