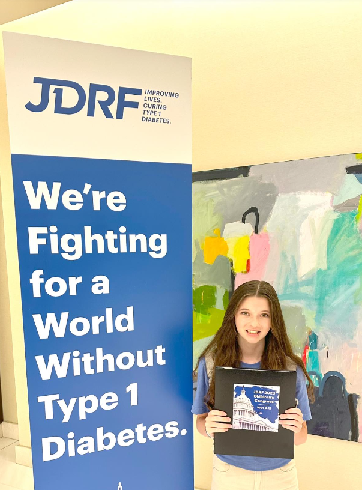 JDRF 2023 Children's Congress Makes Waves in Washington

JDRF 2023 Children's Congress is over—and it was an incredible success! It's been a long four years since the last JDRF Children's Congress, and the Delegates did an incredible job of making up for lost time. Delegates forged new connections, told hundreds of stories, and, as a result, we made real progress towards achieving key aspects of our Advocacy agenda.

One JDRF Children's Congress, One Voice

Every two years, more than 160 children with type 1 diabetes (T1D) between the ages of 4 – 17 gather in Washington, D.C., to meet face-to-face with some of the top decision-makers in the U.S. Government. The selected Delegates represented nearly every state, as well as four International Affiliates. Delegates have a unique and empowering opportunity to help Members of Congress understand what life with T1D is like, while forming lasting bonds with fellow youth who live with this autoimmune disease.
Originally published July 12, 2023. Read more about the Juvenile Diabetes Research Foundation.
In Christa's words …
Words cannot describe our experience last week. Paige had the honor of joining 160+ kids and teenagers in Washington, D.C., for the JDRF 2023 Children's Congress. These incredible delegates met with Congress to raise awareness for T1D and advocate for affordable insulin and renewal of the Special Diabetes Program, which provides critical funding for T1D research.
It was an unforgettable 3 days filled with new friends, lifelong memories, inspiring messages, and powerful lessons of using your voice and creating change for a greater purpose. We leave D.C. with full hearts, deeper gratitude for JDRF and this amazing community, and greater determination to continue our mission until there's a cure.